Selma
250px

Affiliations
Current
Kittypet
Past
None
Family
Father
Unknown
Mother
Unknown
Siblings
None
Mate
None
Kits
None
Affiliations
Role-Play
Nick
Selma is a gorgeous, tall, slender, long-legged, sleek-furred chocolate-colored she-cat with large ears, a finely shaped head, and big green eyes.
Description
Edit
Appearance
Edit
Selma is an overall attractive she-cat. Her body is long, firm, and muscular, covered in short, yet thick, chocolate-brown fur which she keeps glossy through regular grooming. Her head is slightly longer than it is wide, narrowing to a rounded muzzle with a strong, squared chin. Her neck and legs are long and slender, and her paws are small and oval. Her tail is long and slim, tapered towards the tip.
Her ears are large, round-tipped, wide-set and pricked slightly forward, giving her an alert appearance. There is little hair inside or outside of the ears, with an obvious sparseness of hair in front of them. Her nose is brown with a rosy tone; and her rough paw pads are rosy-toned. Her whiskers are long and brown, complementing her coat color. Her eyes are large and oval shaped with a bright green color to them. They are wide slightly slanted, giving them the look of being almond-shaped.
Coming Soon!
Character
Edit
Coming Soon!
Abilities
Edit
Coming Soon!
Biography
Edit
Kithood and Adolescence
Edit
Coming Soon!
Adulthood
Edit
Coming Soon!
Mates: Coming Soon!
Relationships
Edit
Coming Soon!
Coming Soon!
Coming Soon!
Coming Soon!
Coming Soon!
She will have four kits: Finn, Squeak, Alice, and Maggie.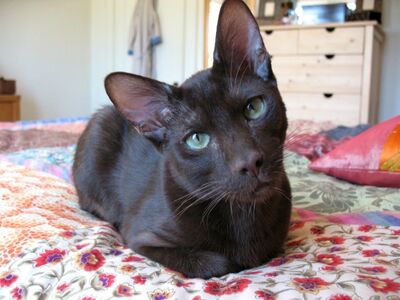 Coming Soon!